Trailer Brakes & Wheel Bearings
Trailer Brakes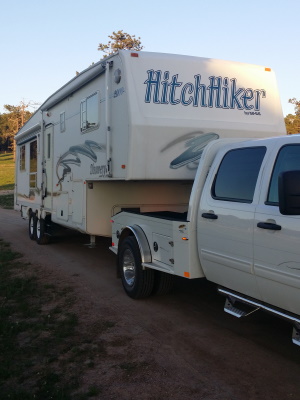 As one of the most important components of your fifth wheel trailer, your trailer brakes need to be 100% at all times. Since many recreational fifth wheels are stored for months at a time, brake systems and components can degrade and fail quite suddenly when called to action.
That's why Ledom's Repair suggest that you bring your trailer in on a regular basis to have your trailer brakes checked for safety and functionality.
We have years of experience repairing and maintaining trailer braking systems and we'll give you peace of mind knowing that your trailer brakes are at 100% capacity and ready for whatever road conditions come your way!
Repairing and adjusting electric brakes, replacing magnets and testing breakaway switches on a trailer can be tricky and time consuming for the garage mechanic. At Ledom's Repair we have been repairing electric trailer brakes for decades and we can get your trailer back on the road with a new set of brakes quickly and efficiently.
We only replace the components that need replacing and our eye is on your safety and keeping your repair bill as low as possible!
Wheel Bearings
Fifth wheel bearings and trailer wheel bearings usually go unnoticed and therefore they often don't get the service they need. Trailer bearings have a hard life, often sitting for months on end then suddenly placed on the road and holding up thousands of pounds while traveling at freeway speeds for hours on end.
A wheel bearing failure can be spectacular and often tragic, with the trailer often losing a wheel at highway speeds with sudden loss of control.
One easy and inexpensive way to avoid a wheel bearing failure is to have your wheel bearings repacked on an annual basis. Not expensive at all, having your wheel bearings repacked yearly will keep that trailer following safely and unobtrusively behind you at all times, causing absolutely no problems.
Springs And Shocks Too
We can install the exact springs and shock absorbers your trailer needs. No need for a saggy and bouncy ride down the road – replace those springs and shocks today!
If you haven't had your fifth wheel or trailer maintained or inspected in a while, make an appointment at Ledom's today and get the peace of mind that comes with a Ledom's service!
EQUIPMENT: 719-473-0528
REPAIR:719-574-7801
Truck Repair
1250 Paonia Street
Colorado Springs, CO 80915
Equipment Sales
5935 Paonia Court
Colorado Springs, CO 80915
Have A Question?
We'll Contact You ASAP!
WE ALSO OFFER:
FREE: 55 Point Inspection
FREE: Pick-Up & Delivery
FREE: Car Wash With Every Service
Need Diesel Truck Repair & Maintenance?
Call Ledom's For An Appointment Now!