Hitches for trailers are typically available in several basic styles including receiver hitches, fifth wheel hitches and gooseneck hitches. The one that mounts in direct contact with the frame of the vehicle and that accepts all kinds of removable ball mounts, trailers, and other hitch-mounted accessories is a receiver hitch.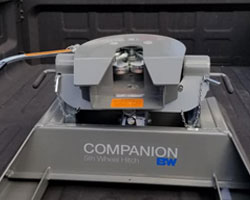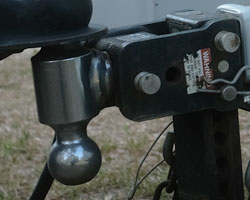 A fifth wheel hitch and a gooseneck hitch enable you to tow a larger trailer and carry heavier loads with your pickup truck as compared with a receiver hitch.
With the two hitches, the trailer's tongue weight presses down between the rear axle and the cab of your truck, which is stronger and more stable compared to the rear bumper.
Gooseneck hitches and fifth wheel hitches are both Class V or higher, implying that they can carry up to 30,000 pounds or more.
What is the Difference Between a fifth wheel hitch and a gooseneck hitch?
The primary difference between the two is that the gooseneck hitch is held in place by a ball while the fifth wheel hitch utilizes a wheel-shaped plate.
For maximum safety and longevity, ensure that either hitch is installed by a professional.
EQUIPMENT: 719-473-0528
REPAIR:719-574-7801
Truck Repair
1250 Paonia Street
Colorado Springs, CO 80915
Equipment Sales
5935 Paonia Court
Colorado Springs, CO 80915
Have A Question?
We'll Contact You ASAP!
WE ALSO OFFER:
FREE: 55 Point Inspection
FREE: Pick-Up & Delivery
FREE: Car Wash With Every Service
Need Truck Equipment?
Call Ledom's Today For Help With All Truck Accessories!