Ledom's GL Series Tool Body
Bodies are designed for 60" and 84" CA Dual wheel cab and chassis. GL -116-TB and GL-138TB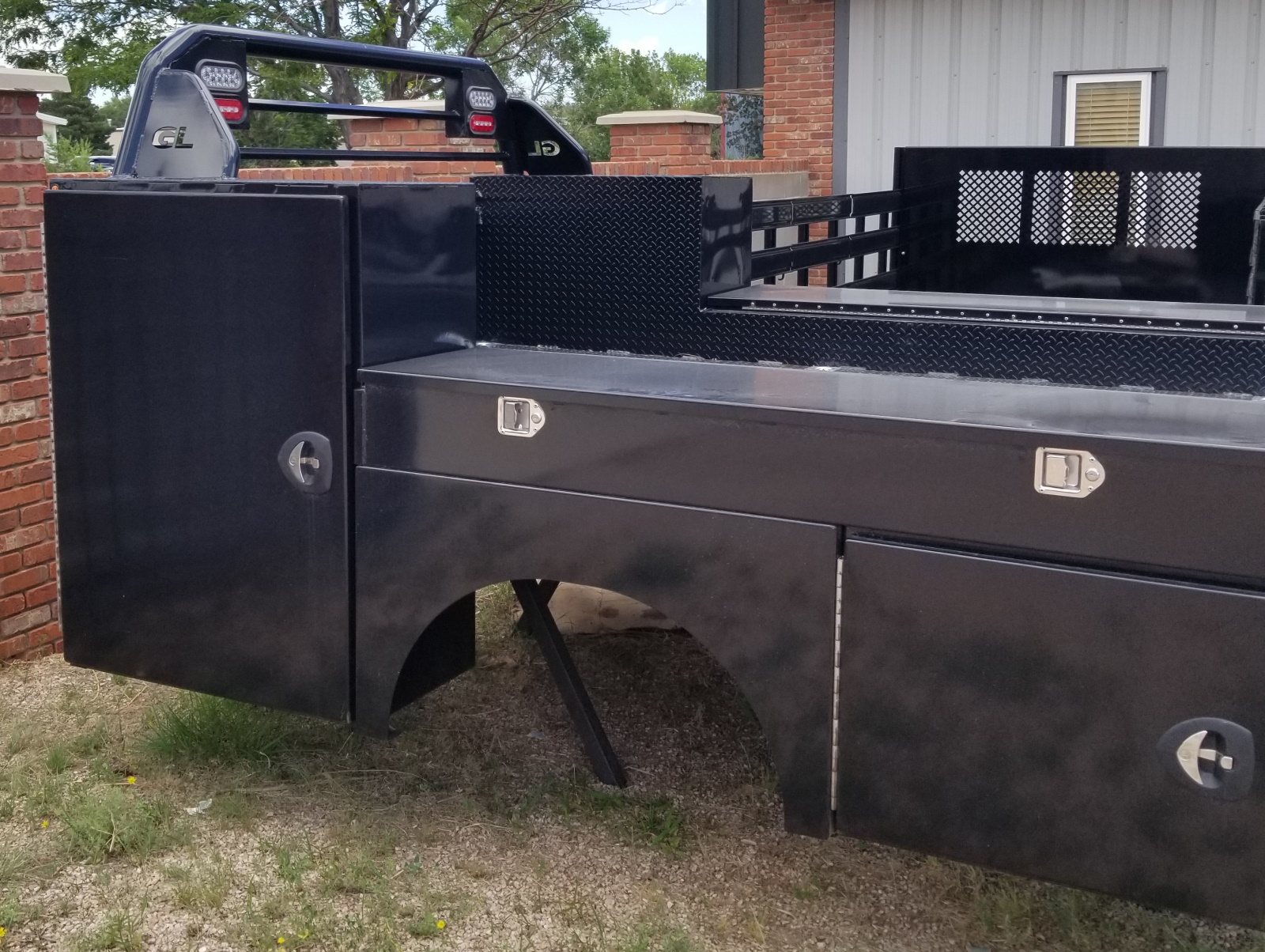 Our Top-Quality, durable and affordable Tool Body features :
1 piece 3/16" tread plate floor
56" floor width between boxes
Treadplate liner on inside walls
6 ea HD tie rings recessed into floor 3500lb capacity each
Rear tail board brackets
* 3" round tube headboard with 1" window bars set at diamond. And light boxes and LED lights
Front tool boxes 20" Deep X 36" wide X48" tall with Gas Strut door retainers
Flip top box 8" Deep X 20" wide X 72" long with gas strut lid retainers.
Rear boxes 20"Deep X 30" wide X 24" Tall with gas strut door retainers.
Rear Balty Box between Longsills 8" Tall X 34" wide X 30" deep.
Full skirting with molded rubber wheel well moldings
B&W Goose neck hitch with recessed safety chain provisions.
Rear Class 5 receiver hitch with safety chain provisions
Two 7 pole plugs one at gooseneck and one at rear skirt.
All latches are Anchor latches with chrome T-Handle
Rear LED Lights in rear skirt
Recessed rear License plate well
Full body powder coated Gloss Black
Need Diesel Truck Repair & Maintenance?
Call Ledom's For An Appointment Now!
EQUIPMENT: 719-473-0528
REPAIR:719-574-7801
Truck Repair
1250 Paonia Street
Colorado Springs, CO 80915
Equipment Sales
5935 Paonia Court
Colorado Springs, CO 80915
Have A Question?
We'll Contact You ASAP!
WE ALSO OFFER:
FREE: 55 Point Inspection
FREE: Pick-Up & Delivery
FREE: Car Wash With Every Service