We Have The Truck Accessories You Need!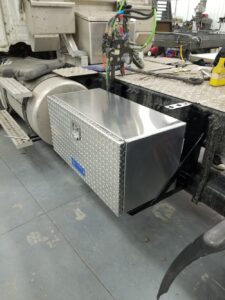 Do you need a new truck hitch or custom-fit toolbox? Would you like to take your standard truck and turn it into a real working machine?
Ledom's Performance Equipment & Diesel Repairs sells many of the accessories and trailers you'd ever need so you get the most out of your truck, whether you use it for work or leisure activities.
And Ledom's Equipment installs every truck accessory we sell. With great quality and highly useful truck accessories and professional installation, you can be back on the job in no time!
TRUCK ACCESSORIES
Tarp systems and Tarp parts
Air Ride systems
Running boards
Bumpers
Winches
Inverters
Pick-up Bed covers
Mud flaps
Grille guards
Brush guards
Tool boxes for Pick-ups and Flatbeds
Custom made Tool boxes
Cargo control
Sprayed in bed liners
Trailer hitches
Floor mats
Seat covers
DO YOU NEED CUSTOMIZED SERVICES?
You can count on us to provide custom flatbeds and design work so your truck looks and functions perfectly for your individual needs. We're efficient and our rates are reasonable.
Don't overlook your RV hitch
An RV hitch may be a small piece of equipment, but if it's not made of quality engineered metal, you'll be in for a bumpy ride.
Ledom's Performance Equipment & Diesel Repairs installs only the best quality hitches in a variety of configurations to suit your individual needs.
With our products, you're sure to have a very comfortable and safe ride.
EQUIPMENT: 719-473-0528
REPAIR:719-574-7801
Truck Repair
1250 Paonia Street
Colorado Springs, CO 80915
Equipment Sales
5935 Paonia Court
Colorado Springs, CO 80915
Have A Question?
We'll Contact You ASAP!
WE ALSO OFFER:
FREE: 55 Point Inspection
FREE: Pick-Up & Delivery
FREE: Car Wash With Every Service
Need Truck Equipment?
Call Ledom's Today For Help With All Truck Accessories!