Fuel Injection Repair and Maintenance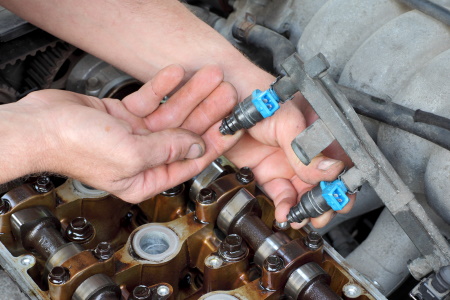 Working in tandem with spark plugs is your fuel injection system, which inject a precise amount of fuel into the combustion chamber of your engine. However, these essential elements of an engine often become clogged with contaminants from diesel or gasoline fuel they or simply wear out with time.
Then, your engine might start to run rough or stumble. You might even get an error light on your dashboard. When this happens you will need a fuel injection service or repair.
The Fuel Injection System – A Very Important Part Of Your Engine
The fuel injection system is, without a doubt, one of the most important elements that determine the efficient operation of a vehicle. However, most repair shops don't have the right tools or skills to take on injection system testing or maintenance. At the end of the day, it's important to keep this system working in an efficient manner for your vehicle to meet air emission standards and for the benefit of the engine.
Electronics Control It All
The electronic fuel injection or EFI system ideally adjusts the engine idle speed and several ignition system timing operations. It regulates fuel delivery using fuel injectors or rather electromagnetic valves that open automatically for varying periods. When the injectors are switched on, they shoot fuel into the engine.
The time period is referred to as the injector pulse width, and the longer it is, the greater the amount of fuel delivered to the engine. All electronic fuel injection systems use injectors that run in the same way, there are varying designs and computer strategies.
Maintaining Your Fuel Injection System Can Avoid Problems
Maintaining the fuel injection system can help prevent a myriad of issues. The fuel injection system maintenance entails:
Fuel flow testing
Testing spray pattern
Cleaning fuel injectors
Periodically changing fuel filters
Well, our team consists of experts in this aspect and will work hard and diligently to ensure your engine and the fuel injection system works optimally at all times. We have state of the art diagnostic equipment paired with top of the line personnel to do all the repairs and maintenance. With basic regular maintenance, most of these systems can last the entire lifespan of your car.
Having problems with your fuel injection system on your gasoline or diesel engine? Ledom's technicians are specially trained to diagnose and repair any type of fuel injection system. Call now for an appointment to get your truck running like a champ!
EQUIPMENT: 719-473-0528
REPAIR:719-574-7801
Truck Repair
1250 Paonia Street
Colorado Springs, CO 80915
Equipment Sales
5935 Paonia Court
Colorado Springs, CO 80915
Have A Question?
We'll Contact You ASAP!
WE ALSO OFFER:
FREE: 55 Point Inspection
FREE: Pick-Up & Delivery
FREE: Car Wash With Every Service
Need Truck Equipment?
Call Ledom's Today For Help With All Truck Accessories!
Need Diesel Truck Repair & Maintenance?
Call Ledom's For An Appointment Now!