Brake Repair
Brakes are arguably the the most important safety device on your vehicle.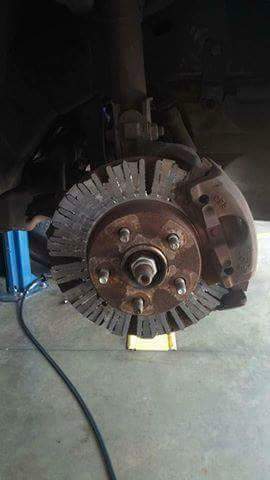 Have you ever partially lost your brakes before? If you have, then you will agree that it is not something that you'd want to experience again.
Having your brakes inspected for wear and damage twice a year can protect both you and your passengers. It'll also help you save more money by detecting wear damage before it becomes a problem. 
Brake inspection and brake repair are part of an overall vehicle safety/maintenance program that will keep you safe and save you money in the long run.
Braking System Components Susceptible to Failure
The master cylinder, which is the heart of a vehicle's braking system, houses the brake fluid when it's not being delivered to brakes through the brake lines. If there are any brake fluid leaks because of a worn master cylinder or because of plugged or broken brake lines, the fluid won't be delivered under pressure to stop your vehicle.
Ledom's brake technicians are have decades of experience in brake inspection and brake repair to keep your truck running safely for years to come.
Brake Lines Need Regular Inspection Too
The brake lines of a vehicle are connected to the master cylinder through something known as a combination valve. This valve combines a proportioning and metering valve and regulates the pressure on the rear and front wheels to ensure that both sets of brakes apply simultaneously. Malfunctioning combination valves may cause wheels to lock up unexpectedly.
Brake repair can replace this valve to keep your brakes performing efficiently.
Brake Shoes & Pads Wear Items
Brake shoes and pads can be made of metal, organic materials or ceramic, while the drums and disc rotors they press against are constructed using metal.
Because shoes and pads create the friction that stops the vehicle, they gradually wear out over time and will wear away completely with overuse, causing the metal of the cylinders and calipers they're attached to grind against the drums and rotors, damaging them.
Some pads have metal strips attached that make a warning whistle-like sound when the pads become too worn; however, this strip will only sound when the vehicle is in motion, and the brakes aren't applied.
Call Now To Have Your Brakes Inspected At Ledoms! 
EQUIPMENT: 719-473-0528
REPAIR:719-574-7801
Truck Repair
1250 Paonia Street
Colorado Springs, CO 80915
Equipment Sales
5935 Paonia Court
Colorado Springs, CO 80915
Have A Question?
We'll Contact You ASAP!
WE ALSO OFFER:
FREE: 55 Point Inspection
FREE: Pick-Up & Delivery
FREE: Car Wash With Every Service
Need Diesel Truck Repair & Maintenance?
Call Ledom's For An Appointment Now!