When it comes to taking care of your car or truck, routine maintenance involves changing out the oil and filter on a regular basis. In doing so, you help the vehicle run more efficiently and you also extend its life. If you do not stay on top of this task, you may find yourself facing a substantial repair bill in the future.

Oil Change Intervals
Everyone has an opinion as to when you should change your engine oil. At LEDOM'S we consult factory recommendations for oil change intervals so your car or truck is always assured of getting exactly what it needs.. In some cases, your car or truck may have an on-board computer that determines when an oil change is appropriate. We know how best to care for your vehicle – give us a call and we'll let you know when your next oil change is due.
Diesel Engines Need More Frequent Oil Changes
If you have a vehicle that runs on diesel fuel, you may need to have the oil changed more often than gasoline-powered vehicles. This is because these vehicles are harder on their oil than other cars. It has nothing to do with your driving style or the conditions under which the vehicle was driven; it is simply the way things are. Give us a call and we'll let you know when your next oil change is due!
Regular Oil Changes Can Extend Engine Life
Whenever you get an oil change, you are doing your part to take care of your truck's engine. You are also benefiting the engine's cylinders and helping the vehicle take advantage of its horsepower. Oil changes, then, are necessary to ensuring that your truck lasts a very long time.
Commercial Vehicles Need Regular Maintenance Too!
If you drive a commercial truck, or if you own a company that needs to use trucks to get work done, you understand that oil changes are part of maintaining the vehicle. If you forgo oil changes, your vehicle is quite likely to need repairs sooner rather than later. The costs associated with such repairs are much greater than the cost of the oil changes. You do not want to have engine failure on your hands.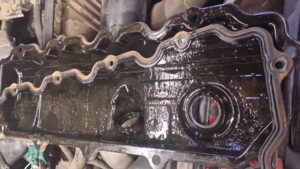 EQUIPMENT: 719-473-0528
REPAIR:719-574-7801
Truck Repair
1250 Paonia Street
Colorado Springs, CO 80915
Equipment Sales
5935 Paonia Court
Colorado Springs, CO 80915
Have A Question?
We'll Contact You ASAP!
WE ALSO OFFER:
FREE: 55 Point Inspection
FREE: Pick-Up & Delivery
FREE: Car Wash With Every Service
Need Diesel Truck Repair & Maintenance?
Call Ledom's For An Appointment Now!