Driveability Diagnosis
You might have heard the term "driveability diagnosis" mentioned when discussing the mysterious and irritating problems your truck may be having with automotive technicians. Usually, this term is associated with the way the truck runs or starts, and is normally related to the truck's engine control system or related components.
A driveability diagnosis is needed whenever your truck or SUV engine is not performing properly but a diagnostic fault code is not being set by the computer. Often these problems are hard to diagnose and fix. This is where experience and a good problem ability are essential to finding and repairing problems that cause driveability problems
Your truck might be experiencing some of these symptoms:
Running roughly
Surging when you drive at certain speeds
Hesitate whenever you accelerate
Fail to start
Hard to start
Fleeting error messages
Many confusing error messages
Repeated component failures
Poor fuel economy
Low power
Truck is in limp mode
This isn't a complete list, however, if any of the problems are related to your truck, then a repair shop technician is going to need to collect as much information as he can to help pinpoint what the exact problem is.
Good Answers Are Key To A Driveability Diagnostic
For driveability diagnostic problems, some pointed questions will need to be asked by the technician. To solve a problem like this, your ability to provide clues can really help the mechanic out.
Clear communication between the vehicle owner and repair shop is essential for the process. You can influence the process directly by describing the symptoms of the truck accurately and when the symptoms occur. Any clues that you can provide will help.
This clear communication will help the repair technician narrow down their diagnostic process in order to find the right solution faster.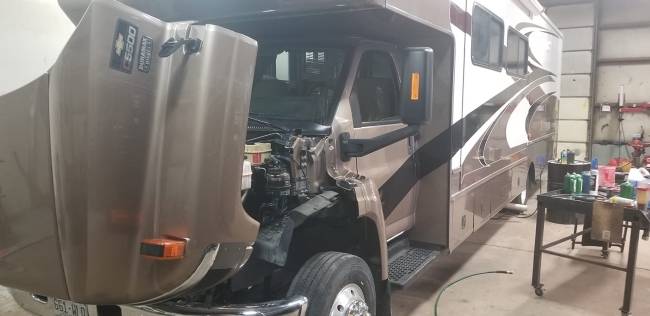 Road Tests Can Help
To really solve these irritating problems might require the owner and shop personnel to go on a road test together to to try to replicate the problem.
Giving accurate information will help to reduce the amount of time that needs to be spent on identifying the necessary repair and over the long run will save you money and time.
Fortunately, Ledom's Repair has experienced technicians who have been fully trained to handle driveability diagnostic issues. We have the skills, training, experience and tools needed to pinpoint driveability issues.
With more than 70 years of combined experience in the repair industry, you can be confident that we will be able to solve your driveability problem and get your truck back to the sweet-running rig you depend on.
Call Today For An Appointment
Give us a call or ask for an appointment online today if your truck is acting up so that we can locate the problem and fix it before your vehicle breaks down and leaves you stranded.
EQUIPMENT: 719-473-0528
REPAIR:719-574-7801
Truck Repair
1250 Paonia Street
Colorado Springs, CO 80915
Equipment Sales
5935 Paonia Court
Colorado Springs, CO 80915
Have A Question?
We'll Contact You ASAP!
WE ALSO OFFER:
FREE: 55 Point Inspection
FREE: Pick-Up & Delivery
FREE: Car Wash With Every Service
Need Diesel Truck Repair & Maintenance?
Call Ledom's For An Appointment Now!