The Ledoms 30/60/90 Service Check Up
What Is A 30/60/90 Service Check-Up?
Vehicle manufacturers set schedules for servicing their vehicles based on both age and mileage. Covering 30,000 miles, and higher multiples of the same figure, is especially significant, depending upon the manufacturer.
30/60/90 Service Addresses Important Maintenance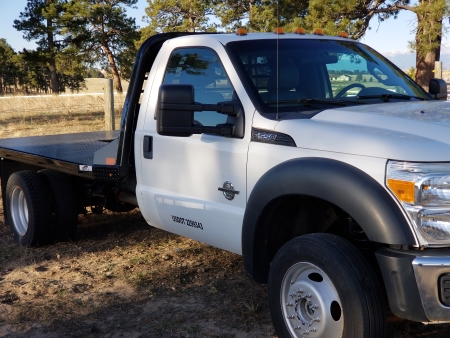 A service check-up performed at 30,000, 60,000, or 90,000 miles is intended to address important maintenance tasks and check the condition of key vehicle parts. Common service tasks on the 30k mileage interval include changing the vehicle's filters, changing fluids, and performing a thorough visual maintenance check. Additional items can be added to the schedule depending on the specific mileage interval the vehicle has just crossed.
For many vehicles built within the last 10 years, the 90,000 mile service check is particularly important. Some components (e.g. timing belts if your truck has one) sometimes will require replacement. From the professional mechanic's standpoint, though, the 30/60/90 schedule is a very useful one for both newer and older vehicles.
Older Trucks Need More Maintenance
All trucks are inevitably going to need more frequent maintenance as they get older and rack up more miles. Repairs grow more common and the vehicle needs to be checked more frequently.
For particular models, manufacturers may recommend additional service intervals at other mileage milestones. Common examples include 7,500, 15,000, or 75,000 miles. Even with such milestones added to the service schedule, the 30,000-mile intervals remain significant.
To keep your truck running in optimum condition, it needs to receive all the appropriate maintenance according to the manufacturer's recommendations as well as supplemental care based on the needs of the specific vehicle. The following items are all standard for a 30/60/90k service check-up:
Tire rotation and balancing of all four wheels. Tire pressures are checked
All filters (air, cabin, oil, fuel) should be visually inspected and replaced if necessary
All parts and operating systems should be visually inspected for signs of damage and wear
Common systems to check include
Brakes
Suspension
Emissions
Lights
Fuel system
Belts and hoses
Spark plugs and belts are checked and changed as necessary at higher mileage intervals
Fluids replaced (e.g. cooling system coolant) according to manufacturer's recommendations
Road testing
Schedule a 30 60 90 Service Checkup At Ledom's Today!
No matter what the actual mileage interval the manufacturer suggests, it's best to rigorously adhere to their maintenance schedule for a long, trouble-free vehicle life. Keep your vehicle in tip-top condition; schedule a maintenance check-up at Ledom's Repair today!
EQUIPMENT: 719-473-0528
REPAIR:719-574-7801
Truck Repair
1250 Paonia Street
Colorado Springs, CO 80915
Equipment Sales
5935 Paonia Court
Colorado Springs, CO 80915
Have A Question?
We'll Contact You ASAP!
WE ALSO OFFER:
FREE: 55 Point Inspection
FREE: Pick-Up & Delivery
FREE: Car Wash With Every Service
Need Diesel Truck Repair & Maintenance?
Call Ledom's For An Appointment Now!