Truck Guys Corner
As Owners of a business it's been a strange second quarter for our company along with several other companies we work with each day. We have been blessed to have kept all our team working throughout the pandemic.
The challenges for our company have been to keep a steady supply of work every day, and then to find the parts and products to get the work done.
Also, to keep our customer's personal vehicles along with fleet vehicles working. Another struggle has been to keep a positive environment for our Team and our Customers as the news changes by the hour. Something that we have all seen is how this has affected everyone, and the trickle down affect it has had that we never thought of and have taken for granted for years.
Grocery stores with empty shelves, (who would have ever thought), parts stores with supply issues, manufactures that stopped production, families that had children home with no school, Zoom meetings that never seem to have justice for what needs done, and in our industry this I believe will change the day to day way we have to do business.
We will, however, continue to work hard to take care of our customers, and our team, and to make the changes necessary to do so.
We are very optimistic that through whatever comes to be we will be here doing what we do, fixing trucks, and building equipment…Because we are THE TRUCK GUYS!
Thank you for your continued support and business!
Larry Ledom
Greg Budwine
Truck Talk
Did you know that millions of Americans suffer from allergies? It's the sixth leading cause of illness in the US.
Your cabin air filter is the last line of defense between the driver and the airborne particles.
Cabin air filters are probably the most overlooked filter on today's vehicles. We recommend changing the cabin air filter annually in the late spring or the beginning of the summer. If replaced after the pollen season the filter will operate approximately nine months with a pollen free filter before it starts collecting dust and pollen the following season. Bad or clogged filters can also restrict air flow and can cause damage to some of the components in the system.
So when getting your vehicle serviced please ask your service advisor about your cabin air filter.
People Serving People One Truck At A Time…
Team Member of the Quarter
Our winners for Team Member of the Quarter are two people who prove what our mission statement really means. We will provide uncompromising distinctive, personalized service that meets and/or exceeds your expectations.
Colt Price is our lead tech at the equipment shop. He works very hard in making sure our customers get an end product that not only lasts but will work the first time, every time, and takes pride in the detail of his work.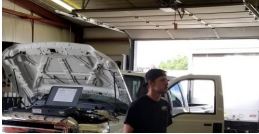 Monte Goodrich is our lead service advisor at our equipment shop. He communicates with our customers, asking questions to help them with what they want and never lets them settle for anything less. He takes great pride in his job and giving our customers top shelf service.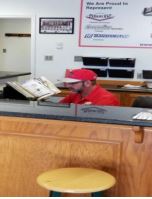 Together these two men help the rest of our team members succeed in making our team great.
Vendor Spotlight
SOCO NAPA Cary Carter is a man who is NAPA born and bred. He started working in high school, in the 1970's, for a service station, in Kingman, AZ off Hwy 66, pumping gas and learning from the owner how to change tires and service vehicles. Then by 1979, he moved to Phoenix, AZ to work for a NAPA store. He quickly moved his way up the ladder learning all the jobs from Driver to Parts Counter, Store Manager, District Manager, General Manager to Senior VP of Company Stores.
He relocated 9 times during his 34-year corporate career mostly working with company owned stores and most of his tenure in Colorado. In 2009, he helped get the Colorado Springs independent owned stores bought by NAPA corporate. This would soon complete his future adventure when he decided in 2013 to retire from corporate NAPA and purchase the stores in Colorado Springs and make them privately owned once again. Jan 1, 2014, he became the owner of these three stores now known as SOCO NAPA having his family join him in the business.
He and his son, Cody have over 49 years combined knowledge of NAPA parts and distribution. NAPA's are not a franchise; they are auto parts stores that carry at least 75% NAPA auto parts and the rest is up to the individual owner of the store.
SOCO NAPA wants to stick with their current business model of Big stores and Big inventory, lots of drivers to get the customers within a 5-mile radius what they need. SOCO NAPA cares about their customers, (other automotive shops) and wants to have a partnership where they work closely with each other. SOCO NAPA says the business is basically 20% retail and 80% wholesale and keeps their pricing competitive.
We are proud to call them a partner in our business and are thankful that they have the same goals and customer commitment as we have.