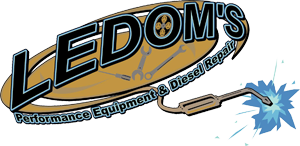 Quarterly Newsletter Dec. 2020 Vol. 4
Truck Guys Corner
Well, yet another year has passed and has had many challenges of its own. We believe 2020 is a year most individuals will not ever forget! This was not only a year of election, but also a year with many challenges. The start of 2020 was a strong start for most, then in March our worlds got turned upside down with the Corona Virus or COVID-19 as we refer to it now. Many local businesses were shut down, people started working from home, schools were closed and by mid-April – most Americans were trying to figure out how to survive. Then the onset of the masks and being "extra clean". No paper towels or Lysol to be found on the store shelves…bars and restaurants were closed and limited to "Take Out" only! The authorities really wanted everyone to stay home!
With little redesign and some great input – Team Ledom's adapted well and just kept plugging away! "Taking care of those taking care of us"! It has been quite the battle…uphill most of the way, but we will forever be grateful for all the support we have received from the awesome community of Colorado Springs!
We believe the best is yet to come! So…2021, we are gunning for you! 2021 marks our 20th year in business and we couldn't be more grateful for your support! THANK YOU!!!!
Truck Talk
The year 2020 was a challenging yet exciting year for Team Ledom's …especially the Truck Equipment side of the business! The rollercoaster the year itself created plus the additional issues of vendors running out of parts and materials, as well as shipping delays created more challenges that our Team had to muscle through! But with new ideas, great innovations and a dedicated staff, 2020 has been a very productive year! We know how important your truck equipment is for your everyday tasks. From toolboxes that store all your needed tools, to lift gates that help deliver supplies – Ledom's can help with ALL your equipment needs! This year we even started to manufacture our own GL© Flatbeds that you can order to meet your specifications! To close out the year and prepare for the New Year, remember that your truck equipment is as important as the vehicle you install it on. The good news is we can take care of the equipment as well as the truck! We will always preach that a good maintenance program is key to any equipment in order to keep it operationally safe and ready to use! Please, please take a look at our website at www.ledoms.com, then feel free to come by for a visit in 2021 and help us celebrate 20 years serving our community! Have an AWESOME 2021!
Team Members of the Quarter
Michael Budwine
Michael is an up-and-coming Tech at our Repair Shop. He is always here to help; at times you may find Michael working at our Equipment Shop learning about truck equipment. Our company enjoys watching him grow as a person and as a Tech.
Jay Duggan
Jay has been with our team for a year now and has become a huge part of our GL Flatbed Team. His attention to detail is what makes Ledom's quality what is. Jay loves to be under his welding hood doing what he does best and is always helping someone on our team to be better. We have been blessed this year with a Team that we can say we are honored to mentor and we hope they all continue to grow and help service our customers "One Truck at Time".
People Serving People One Truck At A Time…
Vendor Spotlight
RC Industries
RC Industries began in 1994 with a desire to become the market's quality leader with a focus on custom design, on-time delivery, and sales support. RC found that no one was making high quality, quick turnaround custom toolboxes. Since then, RC has grown 8-fold and expanded their product line to include a broad line of storage systems and accessories, vehicle bumpers as well as other fabricated metal products.
RC remains a family-owned business that values long term relationships with its employees, vendors, and customers.
RC Industries is the #1 manufacturer of custom-built toolboxes and storage systems for work trucks and trailers. Based in Elkhart, Indiana. RC Industries has built their 100% American made products with an emphasis on quality, durability, and design. RC also offers several different options such as: Drawer units, Shelf packages, Latches and color choices.
RC proudly makes the best toolboxes in the industry. Therefore, LEDOM'S is proud to have the RC product line. Our customers at times need a storage box that is not the standard size for most manufactures. Our design team will sit down with you and design the box that works, and RC will manufacture it with the quality our customers expect. If you are looking for a toolbox that will likely outlast your truck, then you should buy an RC toolbox…you will not be disappointed.