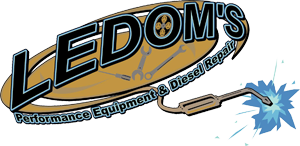 Quarterly Newsletter Mar. 2021 Vol. 5
Our first quarter has been very exciting for us at LEDOM'S
Exciting in the fact that our company set goals as a Team and we as a Team are working toward our goals every day, every week, and every month. Our new line of flat beds, manufactured by our fab team at our equipment facility, has taken off very well with seven different models to choose from and more coming soon.
Our repair facility has been very busy repairing trucks for our great customers with personal vehicles and fleets. It is a great time of the year to get your vehicles in and get them ready for spring/ summer. We have added some new diagnostic products to help better serve our customers. We also added some new vendors that can help us supply our customers on a quicker demand.
Now that the elections are over and the pandemic is somewhat rounding the curve, LEDOM'S has decided that it's time to refocus on what our customers needs are and tackle them head on. It is up to all of us in our Great Country to go to work every day. We at LEDOM'S believe it is important to use this time in our world to teach our youth the importance of learning a trade and going to work to help not only themselves, but others as well. LEDOM'S believe that is up to all of us to make our world a better place to live.
We are People serving People One Truck at a Time.
Larry Ledom COO
Greg Budwine CEO
Truck Talk
The start of a new year and Springtime just around the corner makes for a great time to have your Truck, Motorhome and SUV serviced and ready for a long-awaited trip or maybe just for some weekend getaways. Both of our locations can help you to be ready.

Oil changes
Injector services
Hitch inspections
5th wheel hitches
Tires
Brakes
Air filters
Transmission Services
Fuel filters
Trailer wiring
Gooseneck hitches
Alignments
Shocks
Cabin filters
In the past year things on your vehicle may have been overlooked or maybe you have just held it off. Let LEDOM'S help you with getting it taken care of because we want to give you peace of mind. We offering ½ price oil changes for the month of April. Make your appointment today.
Have a Great Spring and Summer and have some long-awaited fun!
Team Members of the Quarter
Jay Duggan
Jay Duggan has earned the employee of the quarter once already in 2020. This says a lot about his ability to help other team members when they are in need. He has also put a lot of effort into making sure our new line of GL Beds are up to the standards we at Ledom's like to see. After, all these beds are made by patriotic Americans who care about our country and the people we work with. While achieving the team member of the quarter Jay also added a new addition to his own family. They have a new little boy named Jayden Hunter who had some struggles in the beginning but is now at home and doing well.
Ken Hunke
Ken Hunke is our driver for both of our locations. He picks up and drops off our customers as well as he makes parts run for us every now and again for both locations. He also does all our QC for our Repair facility. Ken always looks out for our customers as well as our company. He is a man of integrity and always goes above and beyond and sometime that goes unnoticed.
We want to thank both outstanding men for doing what they do and making Ledom's a team and company we can be proud of.
Vendor Spotlight
Western Steel
Western Steel is a family owned business originating in Colorado Springs. Its roots trace back over 100 years and it is on its 4th generation of family ownership today.
The first scrap yard was started in the early 1900s. In the early 70s, they began selling usable scrap to the public. By 1994 recognizing the need for a new steel supplier willing to sell to smaller users in the Front Range Region, they separated from the scrap yard and became incorporated as a separate entity known as Western Steel Inc. The scrap yard was known as Western Scrap. At that time, they moved into a 10000 square foot building. Currently they have 40000 square feet of inventory and processing equipment. They are adding on to the building for a second time in 3 years.
They constantly are looking for ways to stay diversified and add to their ways to better serve companies like LEDOM'S. In the past few years, they have added 2 automated production band saw lines, a 10' x 20' plasma table with beveling capability, 300 ton 14' brake, and have just installed a new 3/8" capacity x 12' shear. They have also recently invested in a new 12' x 25' plate processing center with drilling, milling, and tapping capabilities that they hope to have operational by the end of the year.
We at LEDOM'S have Western Steel process all our raw materials for everything we manufacture. They always have an open mind to our needs and time frames. We are proud to have them on our team of vendors.